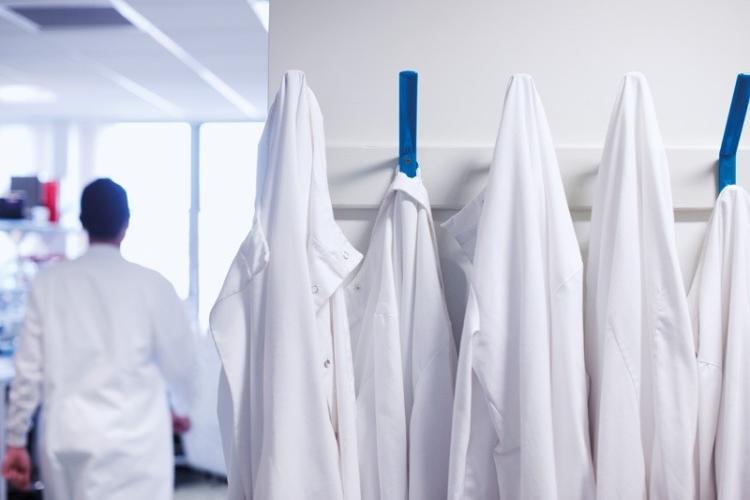 We have built an incredible production line for startup companies to bring early-stage technologies out of the research lab and translate them into patient benefit. Our startup portfolio secures funding from investors around the world who believe in our world class science and the power of partnership.
60+
startups formed across therapeutics, diagnostics and medtech
£2.3bn+
investment raised by our startup portfolio
£822m
investment raised by our startup portfolio in 2020/21
Exited startups
Autolus is a clinical-stage biopharmaceutical company developing next-generation, programmed T cell therapies for the treatment of cancer. Using a broad suite of proprietary and modular T cell programming technologies, the company is engineering precisely targeted, controlled and highly active T cell therapies that are designed to better recognize cancer cells, break down their defence mechanisms and eliminate them. Autolus has a pipeline of product candidates in development for the treatment of haematological malignancies and solid tumours. 
Autolus was spun-out from University College London in 2014, founded on the pioneering research of Dr Martin Pule.
Autolus completed $160.4M IPO in 2018.
Cyclacel, founded by Sir David Lane, a recognised leader in the field of tumour suppressor biology who discovered the p53 protein, was formed in 1996 by what is now Cancer Research Horizons and Merlin Ventures.
Cyclacel is a clinical-stage, biopharmaceutical company developing innovative cancer medicines based on cell cycle, transcriptional regulation, and mitosis biology.
Publicly-traded Cyclacel Pharmaceuticals was established by the reverse merger of Cyclacel with Xcyte Therapies, Inc in 2006.
Epistem is a leading company providing innovative services to accelerate drug development programmes. 
Established in 2000 by Prof. Chris Potten and Dr. Cath Booth, Epistem's scientific foundation is based on several decades of ground-breaking stem cell research by Prof. Potten. Based at Cancer Research UK's Paterson Institute for Cancer Research (now Cancer Research UK Manchester Institute), Prof. Potten identified and characterised the location and behaviour of stem cells in the intestine, skin, hair follicle and breast.
To support this revolutionary research, the team developed powerful models to understand the controls of epithelial cell turnover and methods to quantify tissue damage, regeneration and metaplasia. As a result of increasing demand from pharmaceutical and biotechnology companies for access to these models, Prof. Potten and Dr. Booth formed Epistem.
InferMed, a clinical decision support (CDS) technology company, was launched in 1999 as a joint venture with what is now Cancer Research Horizons. InferMed became a leader in providing software and services to the healthcare, pharmaceutical, and clinical research sectors with which it worked in close collaboration.
InferMed offered innovative software solutions for collecting and managing data. Through both its MACRO EDC application and Arezzo® decision support technology, InferMed's products were designed to improve patient outcomes and help healthcare providers practise more efficiently.
InferMed was acquired by Elsevier in 2015.
Established in 2014, Inivata is a clinical liquid biopsy company focused on harnessing the potential of circulating tumour DNA to guide and personalise cancer treatment, monitor response and detect relapse. Inivata's technology platform is based on pioneering research from the Cancer Research UK-funded Nitzan Rosenfeld laboratory at the Cancer Research UK Cambridge Institute, University of Cambridge.
Inivata was acquired by NeoGenomics, Inc in June 2021 for $390M after it had previously made a $25M minority equity investment.  Inivata is now the liquid biopsy focused subsidiary of NeoGenomics, Inc Group.
Photo Therapeutics was established in the late 1990s based on patented technology developed by Colin Whitehurst, a researcher at Cancer Research UK's Paterson Institute (now Cancer Research UK Manchester Institute). Photo Therapeutics was developing non-laser light devices, and associated skin care products for the treatment of a range of clinical and aesthetic dermatological conditions including non-melanoma skin cancer.
Photo Therapeutics was acquired by PhotoMedex, Inc in 2009.
Established in 2003, Piramed was founded by Professor Paul Workman (at the time Director, Cancer Research UK Cancer Therapeutics Unit), Institute of Cancer Research, Professor Michael Waterfield, Ludwig Institute for Cancer Research, Professor Peter Parker, what is now Cancer Research Horizons, and Srinivas Akkaraju, JP Morgan Partners.
Building on a collaboration between us, the Institute of Cancer Research, the Ludwig Institute for Cancer Research and the Yamanouchi Pharmaceutical Company (now Astellas Pharma Inc), Piramed was developing drugs that target PI3-kinase.
It was successfully exited and was acquired by Roche in 2008 for $160M.  
Sorrento is a clinical and commercial stage biopharmaceutical company developing new therapies to treat cancer, pain (non-opioid treatments), autoimmune disease and COVID-19.
Sorrento's subsidiary TNK Therapeutics Inc acquired Virttu Biologics (formerly Crusade Laboratories) in 2017. Crusade was launched in 2000 by what is now Cancer Research Horizons and the University of Glasgow, to pursue the development of new cancer therapies from Herpes Simplex Virus (HSV).
Founded in 2010, the Native Antigen Company (NAC) is a developer, manufacturer and supplier of clinical reagents to the in vitro diagnostic, pharmaceutical and academic sectors. It offers a comprehensive portfolio of native and recombinant infectious disease antigens and related products. These include pathogen receptors, virus-like particles and antibodies for use in immunoassay applications, vaccine development and quality control solutions. NAC was one of the first companies globally to offer antigens for SARS-COV-2.
NAC was acquired by The LGC Group in 2020, and is now part of the LGC Clinical Diagnostics business unit.